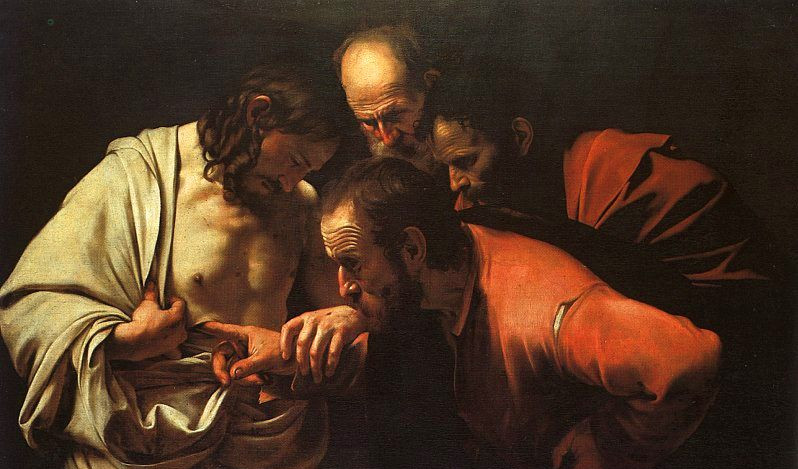 Bradenton-Sarasota Congregation
Do Not Doubt, but Believe
Online service – April 19, 2020
Note: If you want to participate in this Sunday's Zoom online interactive fellowship/care-and-share at 10:00 am, send an email to info@cofchristbradenton.org to get the link and instructions.
Prelude: "Believe" by Hillsong
---
Theme Scripture: John 20:19-31
When it was evening on that day, the first day of the week, and the doors of the house where the disciples had met were locked for fear of the Jews, Jesus came and stood among them and said, "Peace be with you." After he said this, he showed them his hands and his side. Then the disciples rejoiced when they saw the Lord.

Jesus said to them again, "Peace be with you. As the Father has sent me, so I send you." When he had said this, he breathed on them and said to them, "Receive the Holy Spirit. If you forgive the sins of any, they are forgiven them; if you retain the sins of any, they are retained."

But Thomas (who was called the Twin), one of the twelve, was not with them when Jesus came. So the other disciples told him, "We have seen the Lord." But he said to them, "Unless I see the mark of the nails in his hands, and put my finger in the mark of the nails and my hand in his side, I will not believe."

A week later his disciples were again in the house, and Thomas was with them. Although the doors were shut, Jesus came and stood among them and said, "Peace be with you." Then he said to Thomas, "Put your finger here and see my hands. Reach out your hand and put it in my side. Do not doubt but believe." Thomas answered him, "My Lord and my God!"

Jesus said to him, "Have you believed because you have seen me? Blessed are those who have not seen and yet have come to believe." Now Jesus did many other signs in the presence of his disciples, which are not written in this book. But these are written so that you may come to believe that Jesus is the Messiah, the Son of God, and that through believing you may have life in his name.
Call to Worship:
We gather as people on a journey.
We believe & we have doubts,
we do good & we sin.
We are imperfect humans,
and still beloved by God.
Love and grace. Hope and faith.
These are the essence of the one we call God.
We seek forgiveness & grace from
the One and from those we've harmed.
Assured of that grace,
we are ready to grow again.
We yearn for a new way,
a new perspective,
and a clear path.
Though we are full of trust
and full of doubt, we are here.
Speak to us, God!
Continue creating us!
Inspire our hearts.
Enlighten our minds.
Guide our actions. Amen
---
Morning message – Elder Charyn Walker, Pastor
During Jesus' ministry the disciples followed Him wherever he went, they listened to his teachings, and witnessed miracles. They were certain that Jesus was the Messiah, the Son of God. Then Jesus is arrested, tortured, and crucified. When He died, they laid him in a tomb that was sealed with a heavy stone. The emotional highs and lows that the disciples experienced must have been incredible.
I need to paraphrase a portion of the Easter story because it reminds us of how events can diminish our belief and cause us to doubt. Early in the morning Mary Magdalene discovered Jesus' body was not in the tomb and she told the disciples. Peter and another disciple went with Mary to see for themselves. The stone had been rolled away. The strips of linen used to wrap Jesus' body were lying there. The burial cloth that was placed around Jesus' head was folded by itself and lying separately from the linen. Not understanding that Jesus had to rise from the dead, the disciples go home. Mary is alone and crying as she looks into the tomb. There she saw two angels in white seated where Jesus' body had been. They asked Mary why she was crying and her response is "They have taken my Lord away." When Mary turned, Jesus was standing there. He called her by name and gave her instructions to tell the disciples "I am returning to my Father and your Father, to my God and your God".
On the evening of that same day, John 20:19-31 tells us the disciples were filled with grief and despair. They came together In a room with the doors locked and fearing they would be found. While the disciples were together in that room, Jesus entered through a locked door and stood among them saying "Peace be with you!" He showed the disciples His hands and side. Can you imagine their amazement? According to scripture, they were overjoyed. Jesus breathed on them and said "Receive the Holy Spirit". The disciples were empowered and encouraged.
Thomas enters after Jesus has gone. The disciples try to tell him about their experience. Thomas refuses to believe unless he sees for himself. A week later, Jesus re-appears to the disciples and urges Thomas to believe. Only when Jesus allows him to see and feel his side and hands, did Thomas believe. This is when Jesus said, "Because you have seen me, you believe; blessed are those who have not seen and yet believed".
I previously shared my vision for this congregation. It was a vision of God lifting us corporately out of the waters of baptism, a new beginning, leading us in the direction that he wants us to go. I feel drawn to Luke 24:5-6: "Why do you look for the living among the dead? He is not here; He is risen!" How blessed we are to know that Jesus is alive and continues to care for us. Have you noticed how nature is still in motion all around us in spite of the pandemic? God is still in charge even while social distancing. Just look at the multitude of worship services available through different mediums of communication and posts on social media that offer encouragement for one another. It's wonderful to know that belief in our risen Savior and friend, Jesus, has not been dampened. Even so, the pandemic has caused hardship and heartache for so many and prayers are powerful and appreciated.
Without a doubt, I know that my savior lives!
---
Disciples' Generous Response
Put your offering aside and bring it with you when we meet again or click here to use eTithing.
Pause for a moment to use this time to express gratitude for God's many gifts in your life and to reflect on how we respond faithfully to those blessings. When we understand God's love and grace are given freely to us, we respond out of gratitude and are liberated to share freely in return.
---
Sending Forth:
The peace of God be with you.
Receive God's forgiveness
and the promise of the Spirit,
for Jesus is risen from the dead.
Seen or unseen, he is present in our midst,
and we see the presence of Christ
reflected in each other's faces.
Happy are those who have not seen,
yet have come to believe.
---
This service was prepared by Heather Devine and Charyn Walker